The Blur token airdrop season 1 made millionaires. The infamous NFT marketplace airdropped users over 300 million $blur. The top 1 bidder received 3.2 MILLION $BLUR. And, Blur said you don't worry peeps, we're just getting started. They doubled all bids made until February 14th preparing for the season 2 airdrop. What do you do if you have an opportunity to get free money? Apparently, you start by spending a shit ton. 
Blur Token Airdrop S01: Everyone Gets Money
Season one of blur token airdrop went like the following. You get tokens. And you get tokens. Wait, you? You also get tokens. $BLUR FOR EVERYONE!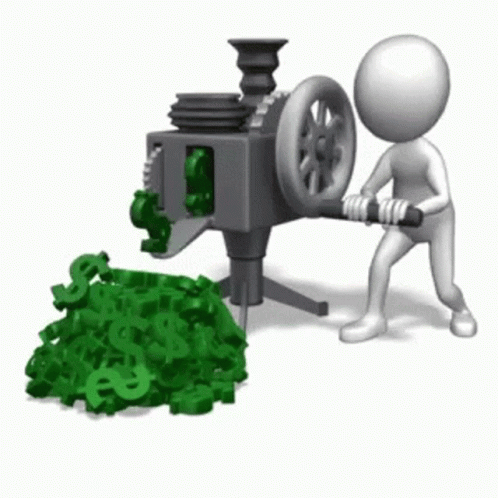 Well, of course, there were rules. Not literally everyone on this planet got a $Blur token. The winners were picked based on:
Total activity

Network volume

Transaction made by each user on the platform 
Top 5 Bidders Got MILLIONS Of Tokens
The top 5 bidders on Blur got millions in the first season:
3.2 M

2.9 M

2.5 M

2.08 M

2.05 M
And, the current $Blur rate is around $0.92 at the time of writing. So, the first bidder got around 2.9 million dollars. Yeah… that amount of money for free. 
Blur Token Airdrop Lights Twitter Up
After the huge season one Blur token airdrop, Twitter was on fire. I mean, a lot of people received insane amounts of money. So, it's only natural for it to become the talk of the space. 
Adding to that, Blur also launched war on OpenSea by enforcing full royalties on collections that block OpenSea. Free money + drama = endless tweets. From excitement tweets, to criticism, to informative threads, Blur was everywhere.
Repeat after me

I, an NFT degen, am forever grateful to @blur_io, and will never use @opensea again.

— ST0 (@Suhas_099) February 14, 2023
Blur gave us an airdrop after couple months in the space.

What the fuck has @opensea done for us other than take 2.5% of every sale for the past year and a half?

— The Doc (@TheMauiWowi) February 15, 2023
The attention is now on Blur. What does the marketplace do? It escalates the situation by doubling all bids made until February 14th. The troublemaker marketplace also announces that this is the start of the season 2 airdrop.
P.P.S. Season 2 has just begun. If you'd like to get a head start on Season 2 rewards, quote tweet this thread and share why you're excited about the Blur protocol! https://t.co/7N0a5PqG4V

— Blur (@blur_io) February 14, 2023
You Want In On The Next Airdrop? Here's How! 
Now you're one of the many who want in on their next airdrop. To be fair, who here would want to miss blur token airdrop? Probably no one. But, how can you maximize your win? You increase your "points". 
Here are a few strategies you can try to boost your points on Blur: 
List more NFTs (especially blue chips)

List more active collections

Use all of Blur's listing tools like listing by floor price

List at other marketplaces via Blur

Placing a minimum of 3 sweeps on Blur before airdrop season 2
The Problems With The Airdrop
First, the blur token airdrop caused an insane spike in gas and gas wars. Per ultrasound money, in the last 7 days, Blur topped the leaderboard of burnt ETH. It burnt a total of 2,268 ETH (around $3.7M per the ETH rate at the time of writing). 
The majority appears to be directly linked to users claiming their airdrop. While the rest is linked to token transfers and activity on the Blur marketplace itself.
The problem is that this is feeding into the increased gas fees mentality. Bidders want to be part of the next airdrop so bad, they're bidding and listing left and right. This is worsening the gas wars.
That's not the only problem. Bidders want more points, right? In order to do that they're opting for risky listing. Meaning they're placing bids a bit less than the higher bid. This ensures the bid doesn't go through and they keep their money but get their points.
Some are also listing below floor price, relisting NFTs at unrealistic prices, and listing dead collections. They just care about the end goal and have zero interest in the current NFT projects. Sounds sad? It is. 
Community Criticizes Blur Token Airdrop
All of this is putting Blur under fire. The community is not only criticizing blur token airdrop but the marketplace in general. Some are accusing it of killing the space, ruining web3 and taking the fun out of it. 
I'll say it, @blur_io ruined nfts

— 👀 for NFTs (@I4NFTS) February 22, 2023
Yes, they have added a lot of liquidity in the NFT space which was well needed. But this liquidity is being used wrong. A lot of ETH is circulating but floor prices are not changing. 
So, Whose Fault Is It?
I have to be the devil's advocate here. Blur token airdrop, again, increased NFT liquidity. A lot of users now have so much more money to use. Is it Blur's fault that the holders are wrongfully using their money? I mean, they can't put rules… can they? Or, is it Blur's fault for dumping this much money and fueling chaos? After all, they're enjoying the chaos to the maximum. Remember I said they launched war on OpenSea? Read about this feud here.